August 31, 2009 in Ballard by yuma2seattle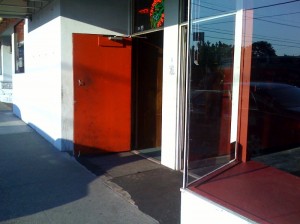 Hey Ladies! Are you in to getting dressed up and drinking beet-infused drinks that end in tini?
Hey Fellas!  Do you like bars where you can drink pricey microbrews and grind up on sorority girls?
If you said 'yes' to any of the above two questions… never go to the Golden City Lounge.   Stop reading… stop reading now.
I love the Golden City Lounge (affectionately called 'The No-Name" by several who frequent there – due to the fact that it appears to be separate from the restaurant and there is nothing noting its presence other than a red door) .  The drinks are ridiculously strong and inexpensive.  The bartenders are sassy and won't take anyone's crap.  The patrons are generally diverse and fun-loving, and the atmosphere feels both divey and inviting at the same time.  The jukebox has an interesting selection, and you can get Chinese food until 1 (!) AM.  Add in their recent expansion which features a pool table, a driving video game, and video darts, and you have a great place to enjoy your weekend on the cheap.
It always seems that something both memorable and awesome  happens when I go to Golden City.  In fact, one time I went there and [note:  content deleted for being too awesome and shocking for delicate sensibilities]
Next time you feel like having some real fun and getting away from the Ballard Ave crowds come to The No-Name.  If you say that you read about the place on BallardBlog.com they will give you a free drink.*
 * This probably won't happen.  However, it might. (?)