August 24, 2009 in Ballard by Amy
Starting next Monday, August 31, 2009, all Seattle public libraries will be closed for a week due to city-wide budget cuts and Labor Day. They will reopen on Tuesday, September 8. During that time, there will be no access to the library website, catalog, Wi-Fi, or book-drops, and scheduled events will not take place. The Ballard Neighborhood Service Center will remain open.
Information specific to the Ballard branch:
Last day to check out items: 5pm Sunday, 8/30/09
Book drops close: Noon Sunday, 8/30/09
Return books inside branch: Noon-5pm Sunday, 8/30/09
Book drops reopen: 9:30am Tuesday, 9/8/09
Branch reopens: 1pm Tuesday, 9/8/09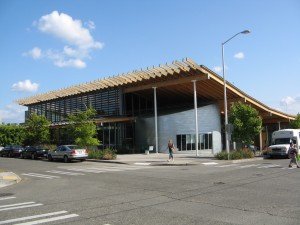 The Ballard library is an indispensable public resource, but don't worry, it's just a week! Due to the closure, the loan period for items borrowed before the closure are extended, so instead of the standard 21 days, some items may be due up to six weeks later–not too shabby if you're trying to read too many books at once.
This week, there are several regular events that will take place as scheduled. On Wednesday, August 26, from 10:30-11am, is Preschool Story Time. This includes stories, songs, and fingerplays for children ages 3-5. Directly following is Toddler Story Time from 11:30-11:50am, for a slightly younger crowd, ages 1-3. On Friday, August 28, from 10:30-11:15am, the morning book group will meet to discuss "Under the Banner of Heaven" by Jon Krakauer, a thoughtful and thought-provoking study of Mormonism and the complexities of human behavior. These events are free and open to the public, and no registration is required.
Ballard Branch
5614 22nd Ave NW
Seattle, WA 98107
(206) 684-4089